Chocolate Chip Cookie-Meals | Peel Top Lid | FREE WITH $100+
Regular price
$0.00 USD
Sale price
$35.00 USD
Unit price
per
Sale
Sold out
FREE WITH ANY ORDER $100+. ENTER CODE COOKIE AT CHECKOUT. MUST ADD THIS PRODUCT TO CART. CANNOT BE COMBINED WITH OTHER PROMOTIONS OR DISCOUNTS.
Just in time for the holidays!  Everyone knows Santa loves a good cookie.  Well, how about a delicious and nutritious good cookie!?
Whole grain rolled oats, sweet molasses and rich chocolate chips sprinkled with sea salt.  30 individually wrapped cookies equal to 15 servings.  Available for a limited time only, and comes in a special peel top lid for easy opening.  No can opener required! 
Many said it couldn't be done: a bite-size nutrient-complete meal. Well, we don't take no for an answer. Please say hello to our Chocolate Chip Cookie-Meals - just 2 cookies provide your body with the nutrients that help you thrive.
You might think they're a little hard, but that's because these cookies are "cold-baked" using our patented freeze-dried process that locks in the flavor and nutrition over a several hour period. Want them a little softer?  Just take out of the wrapper and toss in the microwave for 10 seconds. Voila! 
Packed with Nutrients
Gluten Free
No Artificial Colors, Flavors, or Preservatives*
SHELF LIFE
Shelf Life is: up to 18 months
RECON RESOURCES
Customer Reviews
Write a Review
Ask a Question
Filter Reviews:
cookies
energy
company
shipping
taste
everyone
NUTRIENT SURVIVAL
minerals
vitamins
kids
12/06/2021
Great for hunting
Husband loved these. Takes them with him when he is out hunting.
Karen W.

United States
12/03/2021
I recommend this product
Best Product on Market
This is the BEST PRODUCT on Market. Great taste, nutrition and quality in each can/pouch. I recently tried the chocolate chip cookies, so YUMMY, ate 1/2 cookie and was filled for 4 hours, of course got a lot of them, but one can always get some more! I will definately buy again! BETTER THAN THE MOUNTAIN HOUSE products! Thank you ERIC :-) I am a great FAN of NUTRIENT SURVIVAL PRODUCTS!!!!
Patricia L.

United States
11/23/2021
I recommend this product
Chocolate chip cookie meals
Great! Tastes good. Able to have snack or desert and know it had good ingredients
Anonymous

United States
10/22/2021
I recommend this product
LOVE THE COOKIEEEEEES
Love these cookies, you can really taste a maple flavor in them. The pack a powerful punch at holding hunger at bay, they are very filling for such a little thing. What's the saying good things come in small packages. HIGHLY, HIGHLY RECOMMEND these cookies
Anonymous

United States
10/18/2021
I recommend this product
Picky Eater
Originally concerned about taste as well as texture, rest assured that both passed the test with this consumer! Thanks Nutrient Survival, I will be back for more as well as recommend this product to friends.
Virginia A.

United States
10/03/2021
I recommend this product
like them
I like these cookies; they are soft and taste good
Anonymous

United States
10/02/2021
I recommend this product
Chocolate chip cookies!
I was surprised that they weren't that sweet but I've come to absolutely crave them. The burst of sustained energy that they give me is nothing short of amazing! It's difficult to limit myself to only but I do. Congratulations on a job very well done!
Anonymous

United States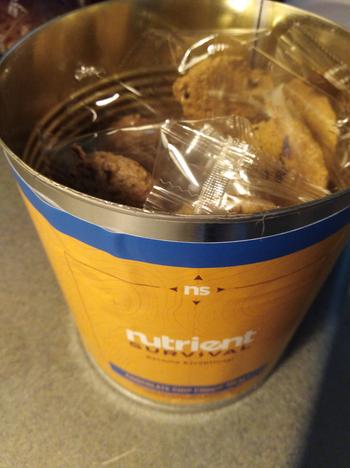 09/15/2021
I recommend this product
The only cookie I will ever eat
Okay, just hear me out. While watching Alaska Prepper, he raved about these cookies. So I decided to try them out. Day 1, I told my wife and three kids that they had to eat a cookie for breakfast, that's it. We all ate our cookies and I kid you not that is all we ate for breakfast, and for four (4) hours after that no one was hungry. Later in the day, we noticed everyone had a lot more energy than usual. We went to a birthday party where they offered cake and ice cream that evening, the youngest barely touched her plate and everyone ate less than at previous birthday parties. I didn't have any at all, it didn't sound appealing at all to me. If you have or know kids, the youngest not eating it all and wanting more sweets doesn't ever happen. This is just after one (1) cookie for breakfast. We will be eating (1) a day through the foreseeable future. Hope you have enough made nutrient survival! (Also they tasted like the best cookie I've ever had, but then there was a vitamin aftertaste. I know for a fact my body will get used to this and that won't even be a problem. Each cookie was individually wrapped helping them to stay fresh longer although one (1) can will last exactly a week in my house with us all having one a day. The cookie meals have the same vitamins and minerals as all of the other cans. It is literally all you need in my opinion to get the nutrition you need on a budget. One person can eat one (1) cookie a day and each can would last you a month.)
Michael M.

United States