Southwestern Medley
Regular price
$329.00 USD
Regular price
$346.50 USD
Sale price
$329.00 USD
Unit price
per
Sale
Sold out
Three-bean medley with bell peppers, rice and a kick of paprika and jalapeño.
This mouthwatering medley of rice, beans, peppers and southwest-style spices will kick your lunch or dinner up a notch. Delicious and nutritious so you can thrive everyday.
COMPARE TO SEE WHY ONLY NUTRIENT SURVIVAL
IS SPECIAL OPS GRADE NUTRITION
Nutrition Scores calculated using data provided by manufacturers on respective Nutrition Facts labels as disclosed between August, 2021 and April, 2022. Nutrition data not disclosed is displayed as "--" and not included in calculations.
Product Overview
Our Southwestern Medley is a savory dish that will change the way you think of meal time. With each bite, you're defending your body and what's better than that? Everything you need for survival situations and beyond.
Packed with Nutrients
Gluten Free
Soy Free
No Artificial Colors, Flavors, or Preservatives*
Add 3/4 cup of boiling water, stir, cover and let stand for 4-5 minutes then savor!
SHELF LIFE
#10 cans up to 25 year shelf life
Singles up to 15 year shelf life
Daily Action Packs up to 15 year shelf life
RECON RESOURCES
Customer Reviews
Write a Review
Ask a Question
Filter Reviews:
taste
food
meal
company
spice
pack
home
singles
beans
order
01/28/2022
I recommend this product
Nice big bag
Much more easier to store. The south western happens to be my favorite. If it wasn't for me prepping I would order the cans and eat. It would be a staple in our home. As soon as I tasted it I wanted to order more and start eating it on the regular. It has a little kick of heat to it which I love. Very happy they started selling it in this bag. I hope they come out with a set deal like the cans. How the cans come in 6 maybe they can offer this in 3s, 5s or 4s. My second favorite is the hearty lasagna. I hope to store this outside in my shed. I live in a place that is know for earthquakes so I like the thought that it can fall down and not dent like the can. I Also live in a small home which makes prepping hard so I love the space saving. I love that it's not metal so it won't rust. This bag has a zip lock to it which is great. It doesn't feel light at all. Has a little weight to it. If you pick up with one hand you can feel the weight if with both hands not so much. The bags feel very strong. For sure ordering more and adding to my to go bag. In my picture I tried to give a good idea of the size of the bag. Which I guess doesn't matter. The singles of the southwestern has more in the pack and chocolate grain has way less but when you pour it out to eat you can see why. So if any bags don't seem as full don't let it get you down. It's for a reason.
Jamesha

United States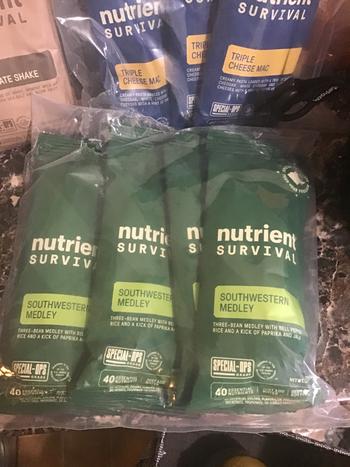 12/12/2021
I recommend this product
So far my favorite one
So far this is my favorite. It has some spicy to it even my husband who can't take spicy food Likes it. For sure getting this in cans and in singles. Oh yeah I got this in the 72 hours pack.
Jamesha

United States
12/03/2021
EXCELLENT PRODUCT
Fantastic! keep up the GREAT job!!!
Anonymous

United States
11/01/2021
Can't beat Nutrient Survival
This stuff is delicious! It's amazing how well it sits in your stomach! Also pairs well with the vitamin eggs for a breakfast. Would pair very well with chicken or beef also. I highly recommend it!!!
Anonymous

United States
10/28/2021
I recommend this product
Very delicious
I really like the focus on the healthiness of the products and not sacrificing taste.
Anonymous

United States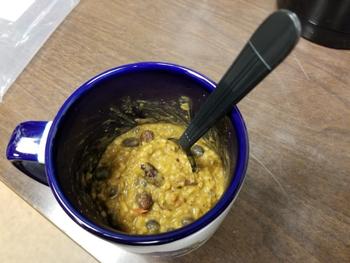 10/01/2021
Versatile & Convenient
Preperation was quick & easy. Pleasantly surprised by the beans with a hint of spice. Certainly a moral boast if caught in an unpleasant situation. I share this company's philosophy and their meals meet my needs for emergency preparedness
Steven R.

United States
09/18/2021
I recommend this product
Awesome Food!
I just made some of this for dinner last night and it was a big hit. I added some dehydrated ground bison, carrots and bell peppers. Delish and filling!
Anonymous

United States
09/06/2021
Best of the bunch
This is the best meal of the bunch. I add vegetables from the garden and, sometimes, meat. Very tasty and filling meal!
Anonymous

United States